Move Minnesota Action is committed to building the grassroots and political power necessary to transform transit.
Launched in 2021 by Move Minnesota, we are growing our movement through effective organizing, issue education, and electoral advocacy in Minnesota.
Transit is Essential
In Minnesota, we need transit to serve all of us really well. Because every family deserves access to jobs, food, housing, health care, clean air, and education. Every community deserves justice and wellbeing.
Whether you ride the bus yourself or you rely on someone who does, transit is an essential public service and critical tool in the fight against climate change. Our daily lives and our collective future depend on it.
40%

of transit riders in Minnesota are essential workers

44%

of riders are Black, Indigenous or people of color

47%

of riders don't have access to a vehicle

27%

of climate pollution in Minnesota comes from transportation

94%

of jobs in the metro are not accessible to transit riders in under 45 minutes

91%

of communities of color in Minnesota face air pollution levels that risk people's health
Transit is Political
We can't let politics-as-usual stand in the way of transit progress. The transit champions we have need our support–and we need a lot more of them! Every elected official in Minnesota should be a champion for transit and transit riders.
In 2023, Move Minnesota Action, advocates, and elected allies at the State Capitol achieved historic wins for public transit. The Minnesota State Legislature passed long-term dedicated funding to transform public transit service throughout the Twin Cities metro, full funding for Northern Lights Express passenger rail, essential resources for Greater Minnesota transit, nation-leading policy changes for transit and climate justice, and ongoing investments in new bicycling, walking, and rolling connections!
Elections and organizing matter. This victory is more than a decade in the making and a dramatic turnaround from just two years earlier, when 62 sitting Minnesota House members–including more than a dozen representatives in the Twin Cities metro–voted against sustainable funding for public transit. Meanwhile, other critical choices like whether to expand a highway or approve a new bus lane often come down to the important decision-making power of city and county officials.
Now, we have to make sure the potential in this legislation is realized in our streets, in our communities, and on our buses and trains. We have to shore up our transit champions and protect these wins. And from bus lanes to brand new routes, we have to be ready for the fights and opportunities still to come.
What's Possible
Move Minnesota Action is working toward a just, joyful, and sustainable future where:
Transit, biking, and walking are the best and easiest ways of getting around.
Policies at every level of government support transit and riders.
Transit systems in Minnesota have the resources needed to serve all of us really well.
Expanding and improving transit is a top priority for every elected official in Minnesota.
Transit's links to racial justice, climate action, economic prosperity, gender justice, and accessibility are widely recognized and valued.
Our transportation systems protect our air and climate and connect our communities. Our families are happy, healthy, and thriving—no exceptions.
We can achieve this together—by fighting for the transit we need, getting out the vote, cultivating champions, and bringing our pro-transit voices into the political process. Let's go!
Get Involved!
Join Our Volunteer Team
Make a difference as a Move Minnesota Action volunteer! Our amazing volunteers and organizing staff are working together to mobilize bus riders, connect with local communities through fun events, get out the vote, and elect more transit champions to public office. More elections season volunteer opportunities are coming up soon. We'd love your help!
Join Our Elections Team as a Contract Canvasser
We're hiring! Contract Canvassers will focus on getting transit and climate champions elected in local municipal races this fall. $22-24/hour.
Take Action!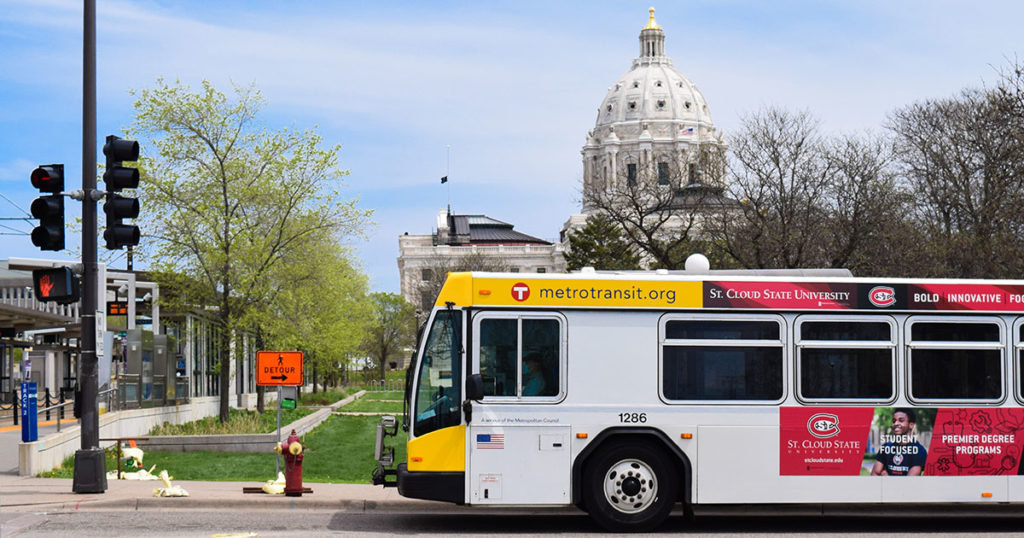 Tell Met Council to appoint visionary leaders for transit!
Historic investments in transit this legislative session have the potential to transform transit in our region. But money alone isn't enough. We need strong, visionary leadership in open positions at Metro Transit and Met Council to make transformation happen.
Pledge to Vote
Our votes are powerful and essential this election season. Pledge to be a voter.
Take the Pledge
Donate
Your donations power the transit advocacy and organizing at Move Minnesota Action.
Donate Today
Stay Connected
Stay in the know and sign up for the latest updates from Move Minnesota Action.
Sign Up Now
FAQs
Get to know us a little better. Check out answers to some of the most common questions about Move Minnesota Action.
What is the difference between Move Minnesota Action and its parent organization Move Minnesota?
Move Minnesota is a 501(c)(3) nonprofit organization. We are leaders in the movement for equitable and sustainable transportation that puts people first. Through advocacy, organizing, policy change, and education, we connect people to transit where the system works well, and fight hard to ensure it works for everyone.
Move Minnesota Action is a 501(c)(4) nonprofit organization launched by Move Minnesota in 2021 to bring even more tools and momentum to this movement. We can do some things Move Minnesota cannot—including endorse candidates, unlimited lobbying to pass important transit legislation, and other political activities.
How is Move Minnesota Action funded?
Are contributions to Move Minnesota Action tax deductible?
Contributions to Move Minnesota Action will help grow our grassroots movement and create a better future, but they are not tax deductible. To make a tax-deductible donation, give to Move Minnesota. For any questions about making a donation, please contact Elissa Schufman at elissas@movemn.org or 651-789-1415.
Who are Move Minnesota Action's staff and board leadership?
Staff Leadership:
Sam Rockwell, Executive Director
MJ Carpio, Campaign Manager
Jennifer Harmening Thiede, Director of Communications and Organizing
Elissa Schufman, Director of Strategic Partnerships
Board Leadership:
Angela Peterson, Board Chair
Patrick Martin, Treasurer/Secretary